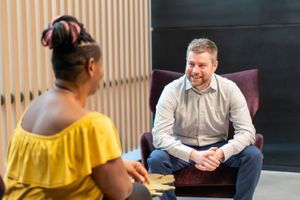 Personalized programs
Designing your team's learning journey
Creating inclusive, collaborative, and impactful learning cultures requires a genuine commitment - beyond annual conferences and training days promoting buzzwords and table-stakes learning.
Our personalized programs are collaboratively designed to meaningfully connect the needs, values, and goals of your team members with the unique systems and context of your organization.
And, we can help you apply for grants too.
Explore the possibilities with us
Testimonials
TACO-bout creating learning cultures
"TACO did an exceptional job of creating a safe space for our Executive Leadership team. They gave tools, context, and platforms for sticky conversations that allowed for things to be spoken about as they are."
Mike Derricott, Chief Administrative Officer for Cochrane
"This work was critically important for us to function as a team before coming back to the office post Covid - given the dysfunctions and behaviours that existed previously. As a team, we're a lot healthier and happier. Going forward, I think everybody feels safe coming back. This was a very important process for us to go through and The Ally Co. did a fantastic job to help get us here over the last 10 months."
Rick Urbanczyk, Director of Facilities Services at TC Energy
"Working in the non-profit sector with a goal to create and nurture lasting social impact is extremely rewarding and fills a passion for so many. It can also be lonely and uncertain work, often leaving leaders and teams with more questions than tools and answers. The Ally Co.'s transformational leadership program provided real-time thinking and tools to help our team foster more collaborative, impactful, and healthy cultural practices."
Eryn Dewald, Past Executive Director at Children's Link Society