Hello and welcome
Introductions
Thank you for being here! If you are new to The Ally Co. (team TACO to our clients and friends), we are a collective of consultants, coaches, facilitators, and trainers who share a vision for a more meaningfully connected world.
Together, we are on a mission to help leaders and teams to cultivate the awareness, willingness, and skill required to shape this kinder future by transforming the role and impact of the workplace.
If you and your team are looking for a different approach to your leadership, people, and/or cultural initiative(s), we invite you to explore the 'art of the possible' with us!
Our happy place
We observe it, we have experienced it, and sometimes we even catch ourselves doing it - leaders and teams implementing well-intentioned workplace initiatives that unfortunately fall short of (sometimes fully miss) their desired impact or the needs of the people the people they were intended for.
The 'intention vs. impact gap'
All kinds of unhelpful and often downright harmful problems live within this gap. For leaders and teams, these problems include misused power, unethical leadership, broken communication, chronic burnout, psychological distress, and a few others.
We help workplaces solve deeply rooted leadership and culture problems that exist within the 'intention vs. impact gap' - where the most meaningful opportunities for change exist.
Our offerings
Influenced by design-thinking, agile, and other human-centred and systems-conscious methodologies, our offerings deliver the awareness and skill for truly transformative results.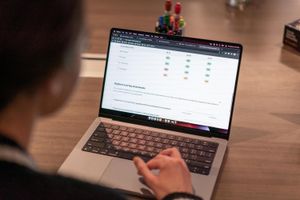 Start asking the right questions
We facilitate lean and agile discovery engagements for exploring the question leaders should be asking themselves more often: "What do I know about this from their perspective?"
Explore impact survey engagements
Design a leaderful workplace
We work with organizations to cultivate leaderful workplaces where people consciously use their power to create meaningful connection and impact.
Explore people and culture services
Transform your impact
We facilitate team-based, real-life, and action-oriented learning experiences that help cultivate the awareness, willingness, and skill to truly lead transformational change.
Explore transformational learning experiences