Offerings
Meaningful, purposeful work
Our work is designed for deep, meaningful, and actionable change.
We help workplace teams to cultivate the consciousness and skill to use their power for creating meaningful connection and positive impact.
Let's explore your team's needs
Power in the workplace
Workplace power dynamics are shifting
The frequency and intensity of change is introducing new power dynamics and relational challenges that most leaders and companies do not (yet) have the skills, tools, and strategies to navigate.
Employees are finding their voice(s)
People are demanding workplace diversity and inclusion, connection and autonomy, and real change to outdated systems and ways of working.
Work is adapting to people
Genuine allyship, autonomous team structures, and personalized work environments are just some of the latest employee expectations when it comes to designing their work-lives.
Our offerings
Inspired by human-centred, systems-conscious, and power-based methodologies, our programs and services are designed to help workplace teams cultivate the consciousness and skill to use their power for creating meaningful connection and positive impact.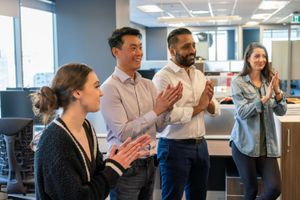 Unearth the most meaningful opportunities
We offer discovery activities to help teams identify and make sense of what is most important.
Explore our workplace culture assessments
Develop new levels of awareness and skill
We offer team-based learning and development experiences for cultivating the conscious use of power and skill.
Explore our team-based learning experiences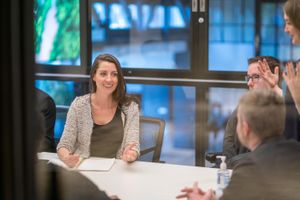 Create 'leaderful' workplaces
We offer human-centred and systems-conscious approaches for creating connected, aligned, and impactful workplace teams.
Explore our employee experience services
How we roll
While the scope and fidelity of our work varies with the unique context of the teams we collaborate with, all our engagements include some level of what we call the 'Five Ds of meaningful work':
Discovery: "What do we know about <> from their perspective?"
Definition: "Do we all have a shared understanding of the opportunities?"
Design: "How might we go about responding to these opportunities?"
Delivery: "What will we do to ensure our intention aligns with the desired impact?"
Debrief: "What's here for us now - what did we learn, and what next?"
Leaderful teams are always moving through the Five D's, demonstrating the ability to adapt in ways that allow them to continue to thrive through the ups and downs of business.
How do the Five Ds show up in your projects?
Testimonials
Some kind words from our fantastic-TACO clients!
"I've made progress in setting stronger boundaries. I've also passed some of the concepts and assessments to my team, which they have found helpful. I'm already seeing some of the changes surface in how we work and communicate, which has been fulfilling."
Executive leader at AMASS
"Leadership and healthy corporate culture work in these trying times needs a collaborative, multi-faceted approach. Working with The Ally Co has given me the opportunity to brainstorm solutions with some incredible minds. Specialists in the work they do, they have truly proven to be a valuable ally to the work I am doing. Workshop development, asking the right questions to get the right solutions, world-class leadership coaching and a new refreshing approach to onboarding staff – and everything in between!"
Lisa Almond, Director of Organizational Strategy and Culture at Cochrane