Offerings
Impact survey engagements
In originally assessing potential service providers and survey technology for our work, we saw an exciting opportunity to create a more impactful experience and meaningful value for our clients.
More than a survey, our transformational impact survey engagements offer a safe, agile, and facilitated way for leaders, teams, and organizations to collect feedback from the people they are impacting.
Get started
"What do I know about this from their perspective?"
Our survey engagements help to explore the question leaders and organizations should be asking themselves more often.
We currently offer two types of impact survey engagements – as a core discovery activity in our consulting work and as a baseline and delta assessment tool in our transformational learning programs.
Leadership surveys
Our leadership impact survey engagements are consciously designed for teams and organizations seeking to become more leaderful – both individually and collectively
How we assess leadership impact
Culture surveys
Our culture impact survey engagements are designed to help answer some powerful questions about workplace culture in teams and organizations.
How we assess culture impact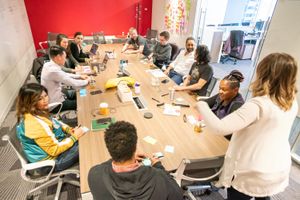 More than surveys
Each of our survey engagements include a baseline and delta survey, and varying levels of the following activities and deliverables:
Planning and scheduling of key touchpoints
Reviewing any context-framing materials
Designing a client-centred experience
Drafting core messaging and communications
Managing the survey experience
Facilitating a 'making sense of the data' session
Developing a password-protected results site
Making recommendations and capturing a high-level roadmap
Offering 'office hours' for learnings-in-action (optional)
Facilitating an 'assessment and debrief' session (generally 3-6 months post baseline survey)