Offerings
Culture assessments
Unchecked assumptions, biases, and inferences are systemic behaviours that are creating uneccesary suffering for individuals and teams.
Our culture assessment work helps teams to identify the most meaningful opportunities for creating connection, alignment, and impact.
Following a 'dot art' analogy - we help teams to collect as many 'cultural dots' as possible to develop a shared understanding of the current state. Then, we help them to connect those dots in a way that creates a clearer vision and path for success.
Explore this work with us
What do we know about 'this' from their perspective(s)?
Our culture assessments range from employee feedback engagements to higher fidelity discovery engagements - encouraging teams to ask powerful questions, practice deep listening, and design purposefully.
Culture surveys
These feedback surveys include a core set of individual and team activities aimed at asking powerful questions about the actual current-state health and impact of workplace culture and leadership.
Assessing the impact of your culture
Team 360°s
These individual feedback engagements are designed to help individuals and teams to cultivate new levels of awareness and skill when it comes to the impact they are having.
Assessing your true impact
Personalized discoveries
These 'deeper dive' discovery engagements include higher levels of personalization and fidelity, and are typically for larger and more complex organizations who are seeking to understand the true impact of their deeply rooted and systemic cultural drivers.
Explore the possibilities with us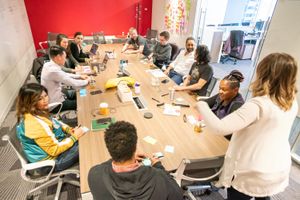 More than surveys
All our culture assessment engagements include the following services, activities, and deliverables:
'Project' blueprinting and planning
Business orientation and context-framing discussions
Fully managed survey experiences
Sense-making and learning-in-action sessions
Password-protected results dashboards
Roadmap recommendations
Debrief and progress tracking sessions
More than surveys, we seek to develop new levels of inclusion, understanding, and awareness on teams.
Ask us for a walkthrough