Culture assessments
Exploring culture meaningfully
Our culture assessment work uses powerful questions, deep listening, and meaningful dialogue to help teams gain a shared understanding of the true impact (and health) of their existing cultures.
While each of our engagements is designed and facilitated in alignment with each team's 'readiness', our work seeks a deeper exploration of leadership and culture through the underlying forces of power, systems, and human behaviour.
Request a walkthrough
What do you know about your culture from your team's perspectives?
A team's true culture is not defined by what its leaders or websites say it is. Instead, a team's true culture is defined by the actions, behaviours, and experiences of the collective.
Therefore, our work seeks to understand the alignment between cultural intention and impact, by exploring the role that unchecked assumptions, biases, and inferences play.
Comprehensive assessments
Designed for teams seeking to understand the overall or systemic impact (health) of their current culture, our comprehensive assessments explore all the core drivers and indicators of our leadership and culture model to surface the most meaningful opportunities for teams to focus on.
See the bigger picture
Deep-dive assessments
Designed for teams who have recently completed some initial discovery work, our deep-dive assessments seek further exploration of specific cultural drivers and indicators (e.g. psychological safety, tension and conflict, conscious communication, and more).
Gain a deeper understanding
Individual assessments
Designed for teams seeking a more personalized approach to developing their teams 'leaderfulness', our individual assessments use a unique and truly 360° feedback process to empower teams to shape their individual and collective impact more meaningfully.
Become more leaderful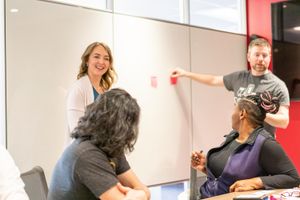 Providing more than great surveys
While our surveys are pretty awesome, the overall value of our culture assessment work comes from the services, activities, and tools we end up designing and facilitating with each team.
Project design and management (planning, leading, transitioning)
Cultural onboarding and value-framing discussions
Alignment and agreement session(s) with leaders, participants, and key audiences
Individual and/or group interviews and workshops
Fully managed feedback survey experiences (online)
Personalized results dashboards and/or reports
Findings sessions (sense-making and learning-in-action) for leaders and participants
Trusted advisor and traction sessions for individuals and groups
Debriefing and transitioning session(s) for value retention and growth
More than great surveys, our culture assessment work seeks to create deeper levels of understanding, connection, and direction on teams.
Find the right assessment for your team