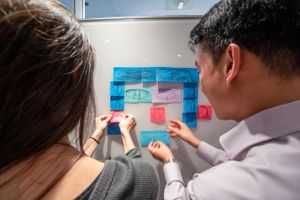 Team learning
Introductory workshops
These half-day workshops are designed to meaningfully introduce and practice the right use of power, ethical leadership, and conscious communication on teams (core drivers of culture).
If your team is looking for a 'lean' way to experience a different perspective and approach to the problems or opportunities you are wrestling with, this might be for you.
Get started today
Assessing 'readiness'
Not sure if our learning and development services align with your team's needs, or how you might position a request for support from sponsors?
We can help you to assess organizational readiness and to create messaging that resonates with your team.
Testimonials
Our workshops are the TACO-the-town ;p
"The Right Use of Power training was instrumental in helping me to form my specific understanding of power in the workplace and beyond. The training is cost-effective and has immense value. Definitely recommend!"
Farzin Farzad, Founder and CEO at Critical Equity Consulting
"We have been able to take our learnings and act on them, making them part of our day-to-day and helping to raise our team effectiveness, efficiency and trust."
Shaun Corneille, VP Customer Marketing at BayerCrop Science Canada