Some level of tension or conflict exists within every team (every relationship for that matter) at any given moment. It's impossible to be in "perfect" harmony with each other when we each have our own unique set of goals and perspectives on what is most important.
Unfortunately, we spend a lot of our time either avoiding conflict (creating an environment of "artificial harmony") or engaging in unproductive, unhealthy conflict (creating an 'unsafe' or even 'abusive' environment).
We often miss the sweet spot in the middle, the "productive tension" space where the use of conscious communication can help us explore those unique goals and perspectives in a way that connects us (vs. disconnecting us).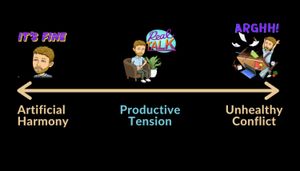 If you're wondering, here are a few ways to spot Artificial Harmony in your relationships:
Sense of "stuck-ness" on the team (unproductive meetings, missed deadlines, minimal accountability, unclear ownership)
Lack of healthy and vigorous debate (no one challenges or questions decisions or strategies)
Informal meetings between individuals or small groups before or after the formal ones (to build alliances or debrief the experience)
Frustrations or annoyances amongst leaders and team members that remain unresolved and turn into complaints
Avoiding hard or uncomfortable 1:1 conversations
Have you observed any of these (or other) symptoms of Artificial Harmony on your team(s)?
We have, and we'd love to help you and your team embrace and own the productive-tension sweet spot. Consider our practical "Fundamentals of Conscious Communication" course offering as a way to help you and your team to move out of Artificial Harmony or Unhealthy Conflict, and into healthy, productive tension.